Virtual reality (VR) and augmented reality (AR) are booming today.
Large technology companies are already betting on this technology, as they want to be at the forefront of this new market.
And it is not for less, since both virtual reality and augmented reality are a new horizon of possibilities for many entrepreneurs and startups.
The growth of these technologies has opened the door to a multitude of new services and tools, which offer possible business opportunities and new microniches for those who know how to read the trends in design and development App and web, content creation, creation of specific software and hardware and its support, etc…
But what is virtual reality? And augmented reality?
The term or concept of virtual reality (VR) refers to an environment formed by objects and / or scenes of real appearance generated by computer technology, which creates in the user the feeling of being immersed or within it.
The concept or term augmented reality (AR) is used to define the vision of a real physical environment through a technological device.
That is to say, to contemplate images of the real world combining tangible physical elements and virtual elements, achieving, in this way, to create a mixed reality or augmented reality in real time.
What is the difference between virtual reality and augmented reality?
Although the terms augmented reality and virtual reality seem the same or very similar, they represent two different things.
In both cases, these technologies have come a long way in recent years and, as is foreseeable and as we have previously indicated, they will continue to grow in the coming times.
The main difference between both technologies is that augmented reality seeks the perfection of the perception of reality and add elements and complements to it that improve the perception of it.
Meanwhile, augmented reality aims at replacing reality through devices that allow one to feel a different reality (that does not exist) built from scratch.
As you can see, both technologies are quite similar and share many points in common, but their objective is different in each case.
How does virtual reality work?
Big companies like Nintendo have been developing this technology for years (Virtual Boy without much success at the time and Wii with much more success years later), seeking to fulfill those fantasies that until not so long ago seemed impossible.
But the virtual and augmented realities are already here and have come to stay definitively, since it is now when finally the technical and technological advances have allowed to accede to these solutions.
For its operation, virtual reality combines a great capacity of computation through multiple and powerful software tools, with a series of optical techniques to simulate an unreal immersive visual environment that makes those who use it feel as if they themselves were real.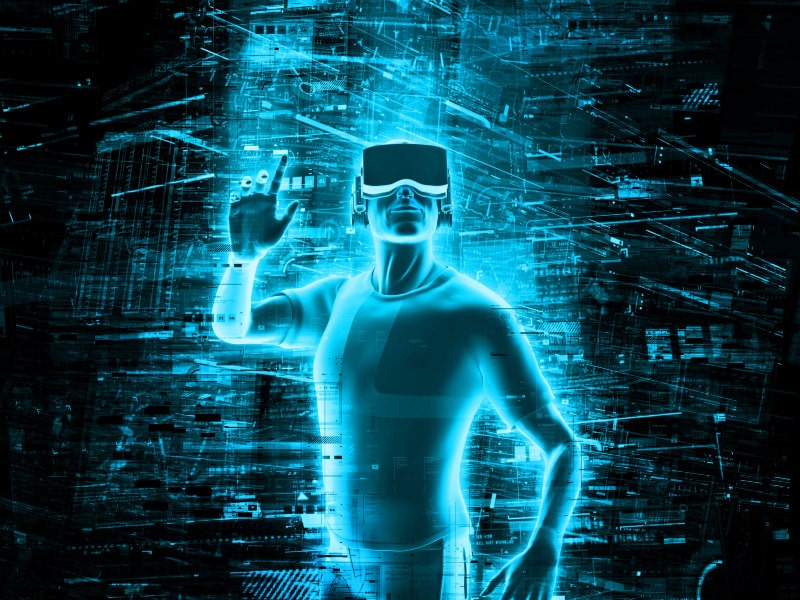 In order for virtual reality to be truly immersive, it is not only necessary to have the specific software tools necessary to do so, but it is also essential to use virtual reality devices adapted for this purpose that allow the user to enter the parallel environment or world.
What virtual reality devices exist?
To make the virtual reality experience possible, certain elements are necessary that contribute to the user's complete immersion.
Generally, these devices consist of audio systems that try to simulate real surround sound, body tracking systems (with motion sensors), gloves, reality helmets or specific virtual reality controls to interact and even complete booths.
Current limitations of virtual reality in terms of content creation
In this regard, it must be said that virtual reality technology currently has the disadvantage that since it is a relatively young typology, there is a certain shortage of content.
To promote the creation of new videos and content optimized and specific for virtual reality, large technology companies are betting on new systems and programs to create specific content.
This includes everything from editing tools and content design, to training seminars or changes in the marketing models of this type of product (change in their online stores adapting to this new technology).
With these training programs, they seek to train designers, creators and professionals of the audiovisual world pioneers in virtual reality, video bloggers and directors of independent audiovisual content to participate in seminars and adapt to this new format (enveloping medium), thus influencing the creation of new content by users in order to massively market this type of products.
They have also opted to open their platforms to this type of content so that users can upload their creations, as at first there was very little material developed and designed by these companies (some trailers, test videos, documentaries and optimized virtual reality films).
The current drawback for the development of virtual reality as you can see, is the necessary synergy between the technological development of current devices (which will have to become cheaper over time, something that will promote the creation of virtual reality content) and the increase in the creation of content optimized and specific to virtual reality (which depends, in turn, the technological development and the lower cost and marketing level of the devices).
This is a vicious circle that companies try to cover by generating the demand for this type of device through the creation of content in virtual reality.
The way to exploit this has been through the creation of devices such as 360 cameras and the lowering of their prices due to the growing supply and competition in this sector, thus closing the circle by covering consumption by consumers and the creation of content.